As part of the Unified Community Platform project, your wiki will be migrated to the new platform in the next few weeks. Read more here.
Spaceship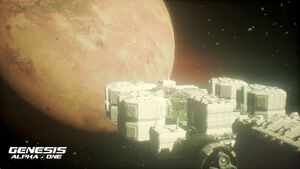 The spaceship you construct acts as your home base and the means of transportation between planets. Every ship is constructed of a variety of modules, allowing you to customize them and make them as large - or as compact - as you wish.
The ship does not move using thrust, but instead relies entirely on making "hyperjumps" using hyperdrive technology. These move the ship from one location to another, within a certain range, with no G's or inertia. This makes the shape of the ship irrelevant.