As part of the Unified Community Platform project, your wiki will be migrated to the new platform in the next few weeks. Read more here.
Gear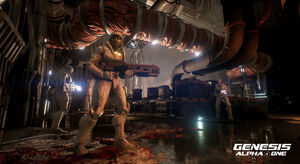 Gear refers to the equipment you and other clones carry into the field to gather resources and fight off aliens.
Different weapons, defenses, and suit upgrades are only available to the player.
Although suit upgrades only apply to the captain (you), they do carry over to subsequent clones who become captain.
Although the weapon used by the crew cannot be changed, it can be upgraded to higher tiers, if available. In other words, they will use whatever tier of that weapon the player has access to. Weapons that do not have an "I" at the end cannot be upgraded.